Parker Thunderhawk might not be the most powerful crossbow out there but what it has is more than enough to hunt down deers or other animals. 
Various test proved its preciseness in hunting. So, no question about that. But, like any another good bows it got some problems.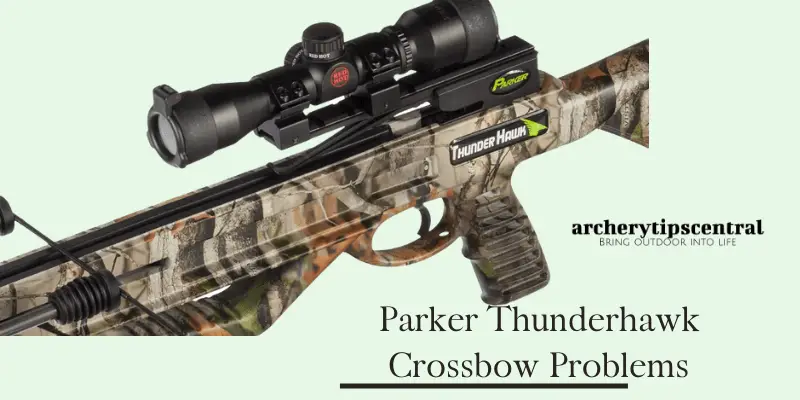 Since I've had the first hand experience on using it I am familiar with some of the problem. Rest of the problem I heard from other fellow hunters.
With that mix, in this post, I'll discuss parker thunderhawk problems, solutiosn of those problem, specs, and if thunderhawk is a good crossbow or not.
Let's dive in!
Table of Contents
List of Parker Thunderhawk problems (and Solutions)
This section contains all the parker Thunderhawk crossbow problems. I'll also try to provide solutions of the problem if I can. 
So, let's go.
Downward string pressure on the rail
Archers often face this problem. However, I personally haven't faced this problem. Also, a significant number of archers reported this problem is non-existent.
Scope mount base cam loosest
On the Parker crossbow scope mount base, there is a cam that locks down the scope. The problem is that this cam is loose and can be turned by hand. 
This causes the scope to move around when you are trying to shoot. It is either necessary to tighten the cam or to replace it.
Solution
The set screw on the scope mount base needs tightening. It probably loosened itself with the vibration of shooting. Tighten the screws holding the scope mount base cam in place to tighten it.
The Thunderhawk anti-dry fire feature does not work
The bow comes with an anti-dry fire feature which is amazing. Because many of us dry-fire our bows unconsciously which might damage bows. 
However, when I heard thunderhawk offers this anti-dry fire feature I was so excited to try it.
Actually, the system works fine. I haven't found any kind of issues using it. However, many thunderhawk owners reported that after shooting a certain time this system doesn't work as before.
(this video shows how thunderhawk anti-dry fire features works)
Solution
There is a possibility that the safety is in the wrong position, which could cause the problem. 
In case, you think there's an issue with your anti thunderhawk anti-dry problems, you should take your bow to a nearby archery shop.
Parker Thunderhak Specs
| | |
| --- | --- |
| Brand | Parker |
| Manufacturer | PARKER COMPOUND BOWS INC |
| Draw weight | 160 lbs. |
| Mass weight | 6 1/2 lbs |
| Length | 34 ¼" |
| Width | 20 ⅜" |
| Axle to Axle | 20.25″ |
| Power Stroke | 10 3/4″ |
| Arrow length | 20" |
| Max speed | 320 fps |
Parker thunderhawk crossbow specification
How Much Is A Thunderhawk Crossbow?
Parker Thunderhawk crossbows are available at a variety of prices depending on the model and features. The most basic model starts at around $200, while the more advanced models can cost up to $500.
Is Parker Thunderhawk A Good Crossbow?
Parker is a good crossbow for those who are looking for quality and durability. It is one of the most popular brands on the market and has a great reputation. Parker also offers a wide variety of models to choose from, so you can find the perfect one for your needs. 
It is a light, compact, and powerful bow. It even comes with auto-engaging anti-dry fire features which are rare to see on similar types of bows. That's impressive actually.
Yet better, the bow comes with a factory-installed Anti-vibration and Shock system which reduces noise and vibration.
A fulcrum pocket and advanced limb technology are also included in the bow!
All these features made this bow an unbeatable choice for hunters! And, I won't think twice to recommend this bow!
How Fast Does A Parker Thunderhawk Crossbow Shoot?
The Parker Thunderhawk crossbow is a powerful and fast crossbow that can shoot arrows at speeds of up to 320 feet per second. It is a great choice for hunters and target shooters who want a high-performance crossbow that is also very durable.
Why Did Parker Bows Close?
Parker bows was a family-owned business that started in Ohio in the early 1900s. The company manufactured and sold bows and arrows, and was especially known for its high-quality hunting bows. 
In the late 1990s, Parker Bows began to experience financial difficulties, and in 2000 it filed for bankruptcy. 
The company was bought by another company, but it was unable to turn things around and Parker Bows closed its doors for good in 2002.
FAQs
Do they still make Parker crossbows?
Parker crossbows are no longer being manufactured. The company ceased production in early 2020.
When did Parker go out of business?
Parker went out of business in 2020.
How fast thunderhawk shoot?
Generally, ThunderHawk fires 400-grain projectiles at 320 feet per second (fps) which is considered plenty for hunting.
Wrapping It Up
Featuring a wide range of features, the Parker Thunderhawk crossbow is an impressive crossbow.
However, it has very few but got some problems. In this post, I showed you what are those parker thunderhawk problems. Additionally, I shared the causes and solutions.